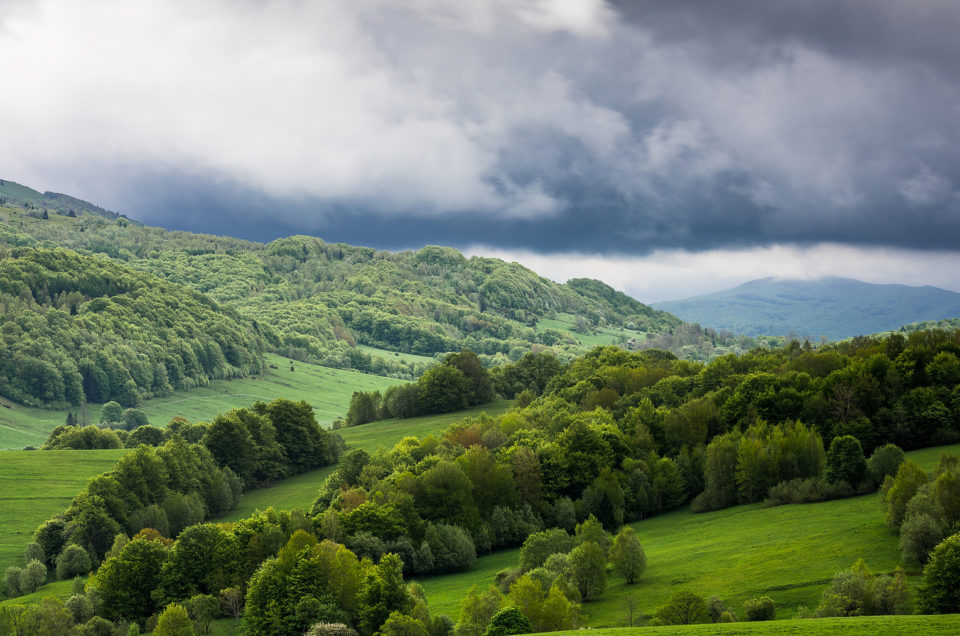 And with great enthusiasm I start a trip to Poland. The objective is to see fauna in the most authentic way, without barriers, without hides… we will have to spend many hours waiting and searching, we will be cold and hungry, but in the end seeing something will make up for everything. In addition, the place is a spectacular natural setting and autumn is already visible!
Day 1. Today's the big day! We are going to Poland! Our guide was already waiting for us at the airport who would accompany us throughout the trip. Without further ado, straight to the car towards the mountains! Today is a day of rout, the journey has not been heavy, everything is so different… we know we are reaching our destination because the terrain is more mountainous and we are already beginning to see the fauna, the occasional roe deer, foxes you see. This starts off strong!
We arrive to the place what will be our house and we distribute the rooms, I love mine! The site is fantastic, we are in the middle of the field and the views are great.
Day 2. And not everything is going to be big bugs, it was a rainy day and we were going to the observation point. Suddenly our guide stopped the car and we all got out without even knowing what was happening… I had seen this beautiful salamander from afar, our hallucinating face was a painting, it was like finding a needle in a haystack. It is important to go with all five senses on, and with moderate speed in animal territory, otherwise it would have been very easy not to see it and finish it off.
Day 3. Today the alarm clock rings at 4:15. As every morning I go down to the entrance of the house to wait for the group. It's cool. This morning we headed to the river to wait the animals. It is night, but we still observe the tracks that are up to the point. My partner, who was the last one, comments that he has noticed how something was chasing us all the time and he heard some branches snapping. On the way back to the car we found these tracks in our same direction. They weren't there before. Clearly someone has followed us. Although we do not see them, they are there, their presence is noticeable.
Day 4. The change of the leaves of the trees in autumn is evident, from one day to the next you can see how the green tones become yellow, orange and ochre… the landscape is spectacular, the temperatures begin to drop and the animals give us clues continuously of his presence, wherever we pass we do not stop seeing footprints. Today the team, dressed in their camouflage, have seen bison and wolves, they love to rest in the sun. And us to observe them.
Day 5. Today the alarm clock rings at 4:30. Today we are going to the road that takes us to the waiting point in a real car, a 4*4 of the authentic and classic ones, one of those that you can put anywhere without being left stranded, quite an adventure ! I loved it! We enter the forest along the path that will take us to the waiting place, it is still dark, and we must try to make as little noise as possible, the animals do not understand mistakes or oversights, and if they hear us… We put on our camouflage and We are at the best point. After hours of waiting, just at 9 these 3 wolves appear!!!! The truth is that at the moment they appear the only thing you do is enjoy them without further ado, which is already a lot, but when the afternoon comes and you realize what you saw hours ago, that's when you hallucinate and you don't even believe that You have lived what you have lived. I personally find it amazing. Non stop. Today I reaffirm that binoculars are essential!
Day 6. Today new components have joined the team!!!!! When you live an adventure of this type with unknown people, where emotions are constantly on the surface and you are probably living these experiences for the first time; May you have the great fortune of meeting people who not only make you a pleasant coexistence, but also, you laugh, look for a confidant who listens to you or gives you advice, we lend each other things and explain life to each other! All this makes everything even more exciting!! Sometimes, even, a friendship is born that will last over time. And that is very nice. I suppose that in the end more things unite us than divide us. The day is over, we still have a long way to go in this adventure!!! We are going to rest because tomorrow we have to get up early! Super team!!
Day 7.And this is me!!! We have to be with the senses at maximum performance. Yesterday early in the morning we were surprised by a large bison on the road. I insist on the importance of good binoculars, so that the whole team controls the different areas in the waiting points. Although I must say that experience is great, and generally the one who sees them is our leader, but we do not give up on our attempt! Sometimes we are lucky! . It is important to camouflage yourself as much as possible so as not to be seen, as well as to be silent and move as little as possible. It is essential to maintain a "human scent" as neutral as possible. All this will seem silly, but animals have very sharp senses, and it all adds up to increase the chances of sighting. It's teamwork and everything counts, there is no margin for error! The day begins with an impressive sunrise, those colors in the autumn mountains… We move through different points, each one more beautiful, they are places of passage of animals very clearly, the trails and footprints are continuous. Bears, wolves, bison, wild boar… We are very attentive when we go in the car, it is animal territory and we do not stop seeing foxes, snakes, ungulates… This is very lively!
Day 8. What a day!!!!! Wake up 4:00. Again we go in the military car. We arrive at the waiting point and when the first rays of sun come out, the first wolves appear. We move through other points and more and more wolves appear. Some come and others go. At the same time we have been able to count up to 7. What a moment! After spending a long time looking them they have disappeared. We move again, and we are surprised by fox in stalking mode… it is just a few meters away, we are so well camouflaged, still and silent that it seems that it has not even noticed our presence, we are cracks! It finally disappears. It hasn't flinched, it's what happens when they teach you that respect and knowledge of the animal prevails above all else, knowing its behavior and habitat… and based on that, position yourself in one place or another, knowing how to act… there the results! We continue on our way back home. In the afternoon we go to another point, and surprise !!!!!!! carpathian cat!!!! It has been fleeting, but we have seen it!!!!!! We continue to see bear tracks, among others… We cannot ask for more from the day, we return home to rest.
Day 9. This morning we went to the river, the truth is that this is being an adventure in capital letters!!! With our boots on we crossed directly to the other shore. We are completely soaked! We couldn't laugh anymore, the water literally covered me completly! It has been completely worth it, the place is a beauty! In the afternoon, we have been with the guards through lynx territory, they have explained many things to us about their behavior and habitat. The place is spectacular. It has been great, very very nice people, welcoming, endearing and with a great sense of humor! It has been a real privilege that they dedicated this time to us, grateful is little. It's dark night and we're going back home to rest… when suddenly a bear with her two cubs crosses in front of us!!! We stop and listen to them but further and further away, we are amazed at what has happened… the day could not end better!!!!
Day 10. Again we return to the river. We arrived at night and little by little the day is clearing up. It's cold and I've soaked my feet again. This time I am prepared and I have brought more socks! Waiting is hard. It is a long time observing and being attentive to everything, anything can happen. We have to be silent and very still. Let no one notice our presence. My head is going a thousand miles an hour and I can't stop thinking about things. Today I feel a little colder than previous days. My leg has fallen asleep, and I don't feel my body anymore, I'm going to try to change position very subtly, I'm on a log, I rest my body supporting all my weight on my hands and arms for a few seconds. I seem to recover. I return to the previous position. We remain on guard. After a few hours we decided that the wait is over. We go back to the car. We have to cross the river again. I soak again. But I still have dry socks!!! So I take off my boots and get comfortable!!! This time we haven't seen anything, this is something that can happen when what you want to see are wild animals, sometimes you see them, other times you don't. I personally believe that this way of seeing fauna has a spectacular merit, and proportional is the joy when you see something. It is not easy at all, sometimes you suffer and sometimes sleep overcomes you. And if it costs, the more motivation you have to keep trying day after day. You have to have high mental control and be very tenacious and persevering. And above all, be very excited! In the afternoon, on the way to the car, we have stopped in a clearing surrounded by copses to observe and listen to nature, suddenly everything was very, very clear noises a few meters away from us, something big was there, we have not seen it, but yes we felt it! Tomorrow is our last day, so we go home to rest.
Day 11. Wake up 4:30. Today is our last day and we are going to make the most of it. We arrive at the waiting point. We are surprised by a tawny owl flying very close, we even notice the air of its wings. We move to different places. The meadows wake up with frost, a premonition that the cold is getting closer and closer. The snowy landscape itself has to be spectacular. In the afternoon we will put into practice everything learned during the trip. Each one will wait where they most want. I decide to go to the river, which is where we start the adventure. I get as hidden as possible and wait. Two more companions also waited at the river, but we placed ourselves in such a way that the separation between one and the other means that we do not see each other. We were alone. The feeling of being alone is incredible! The sounds are magnified and it seems that everything is there and much closer. It impresses a lot. Adrenaline is shot all the time. It is time to return home and say goodbye, the owners of the house say goodbye to us, thanks to them we have felt like in our own home, which we greatly appreciate, we will always remember them. The adventure is over, the balance is super positive, we have seen a lot of animals, the team has been great and the place is idyllic. We hang the camouflages with the illusion of embarking on an adventure like this again very soon. Wildlife is addicted. Thanks a lot!